The brands coming out to support the LGBT community
by The One Centre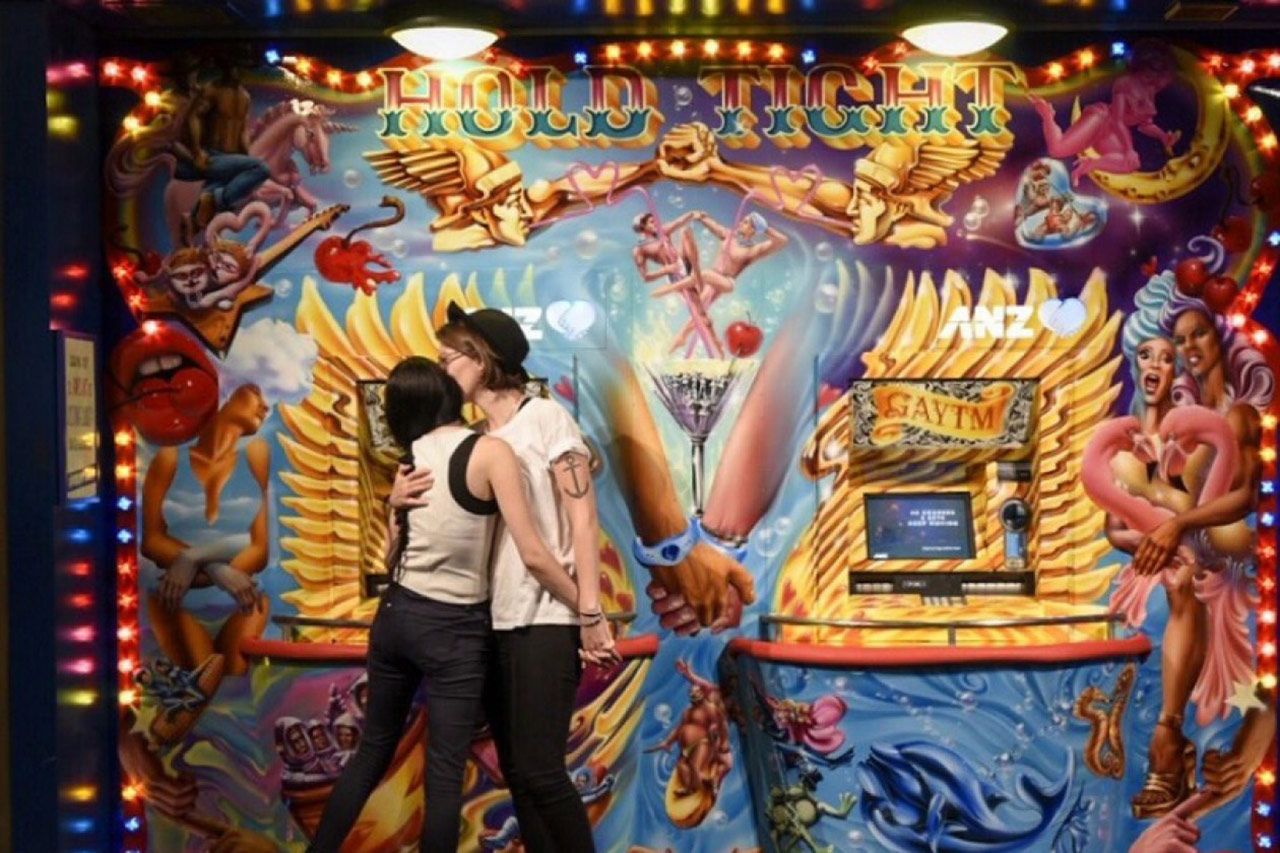 7
May, 2017
7th May 2017
Diversity, Inclusion and Equality are fast shaping up to be among the biggest issues in 2017. With these emotional-filled subjects dominating media, public and political debates around the globe, it is no surprise that brands are rushing forward in support of these issues.

Recent years have seen a significant shift in the way brands have communicated with the lesbian, gay, bisexual and transgender (LGBT) community. Brands have come out (pun intended) to support and celebrate the community while also spreading messages of acceptance and inclusion.

While brands have come a long way since Ikea's ground-breaking commercial in the 90s featuring a gay couple, the last five years have seen a significant shift in brands and organisations publically supporting the LGBT community.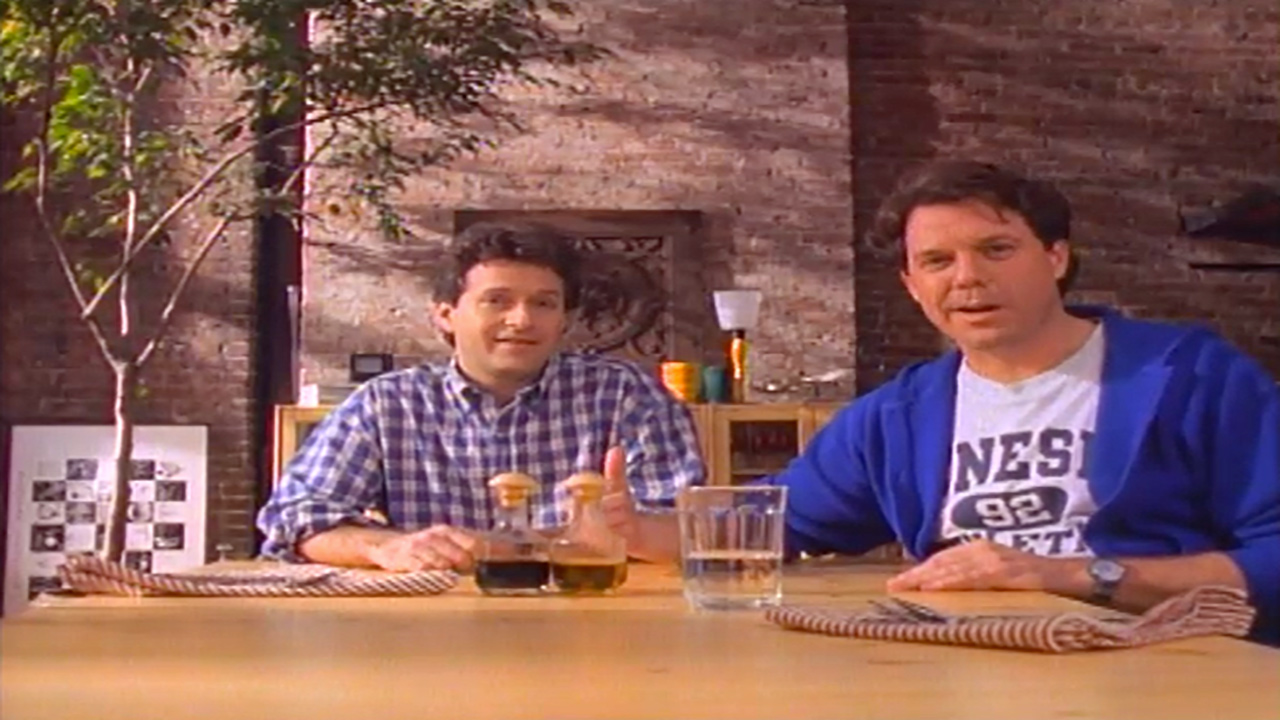 Play video
As the US Supreme Court overturned the Defence of Marriage Act paving the way for same sex marriage and as Russia's tough stance on LGBT rights came under scrutiny around the Sochi Olympic Games, brands sought to show their alliance and support for the LGBT Community.
From Oreo's gay pride post on Facebook which went out to the cookies 26.9 million fans, to Expedia's poignant and emotional film  about a father's journey to his daughter's wedding.
There was Google's City Gym film about a gym that helps support transgender people as they transition, Nike's Be True collection, which was inspired by the LGBT community, and Adidas also jumped on board with its Pride collection
While  socially conscious ice-cream brand Ben & Jerry's continued to show its support by renaming a number of flavours to support LGBT community including the I Dough, I Dough flavour.
One thing is for sure, brands were creating ground-breaking moments, as the issues around gay marriage heated up, scores of brands came out (pun intended) in support of the marriage equality, among the high profile brands was Tiffany & Co, which featured  same sex proposal in its ad campaign,
Target, which featured a same sex wedding same sex wedding in an ad for its gift registry,
and Nordstrom, which featured a same sex family same sex family in its Christmas advert and Gap featured a same sex couple in a t-shirt ad
It wasn't just about advertising messages; organisations were making their values known through the actions of their CEOs.
Amazon CEO Jeff Bezos donated $2.5 million to a same sex organisation, Starbuck's CEO Howard Schultz publically faced off with an investor who claimed the coffee empire's support for gay marriage was impacting its bottom line by suggesting company's stance,
Apple CEO Tim Cook publically came out in a move he hoped would help others who were struggling with their identity, while Qantas CEO Alan Joyce remains an outspoken supporter of LGBT rights, and called on LGBT business leaders to come out of the closet.
As same-sex marriage laws and regulations were signed around the world, brands have become bolder and more inclusive in their marketing and messaging.
It's part of a larger push by companies to show their values, be more inclusive and drive valuable market share.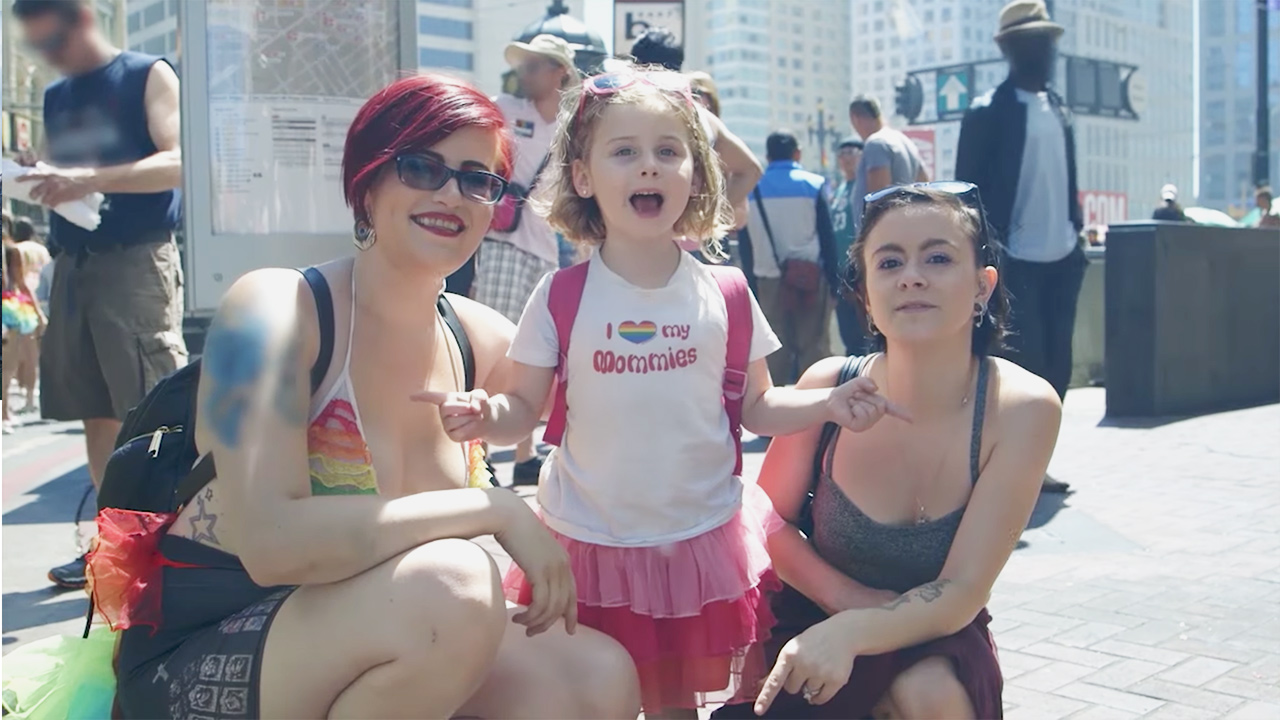 Play video
Burger King unwraps the Proud Whopper
When Burger Kind launched the Proud Whopper to celebrate Pride Week in 2014, it served as a watershed moment in how brands demonstrated their support for the LGBT community.
The limited-edition burger retailed for the same price as the regular Whopper, the only difference between the two burgers was the rainbow coloured wrapper and the message, "We Are All the Same Inside."
This simple piece of messaging was highly effective in achieving the brand's aim of being inclusive and ensuring all customers felt welcome. It also served to make headlines and start a conversation and in doing so quickly spread Burger King's message.
The move coincided with a significant shift in the brand's marketing which saw Burger King ditch its 40-year slogan 'Have It Your Way' to adopt the more inclusive 'Be Your Way'.
It was a bold move which sought to demonstrate the brand values and position it as more than 'just a fast food burger chain'. As Burger King's senior vice president of global branding Fernando Machado said at the time, "We really want to be more than burgers, fries and shakes, and occupy a space that's more meaningful to people."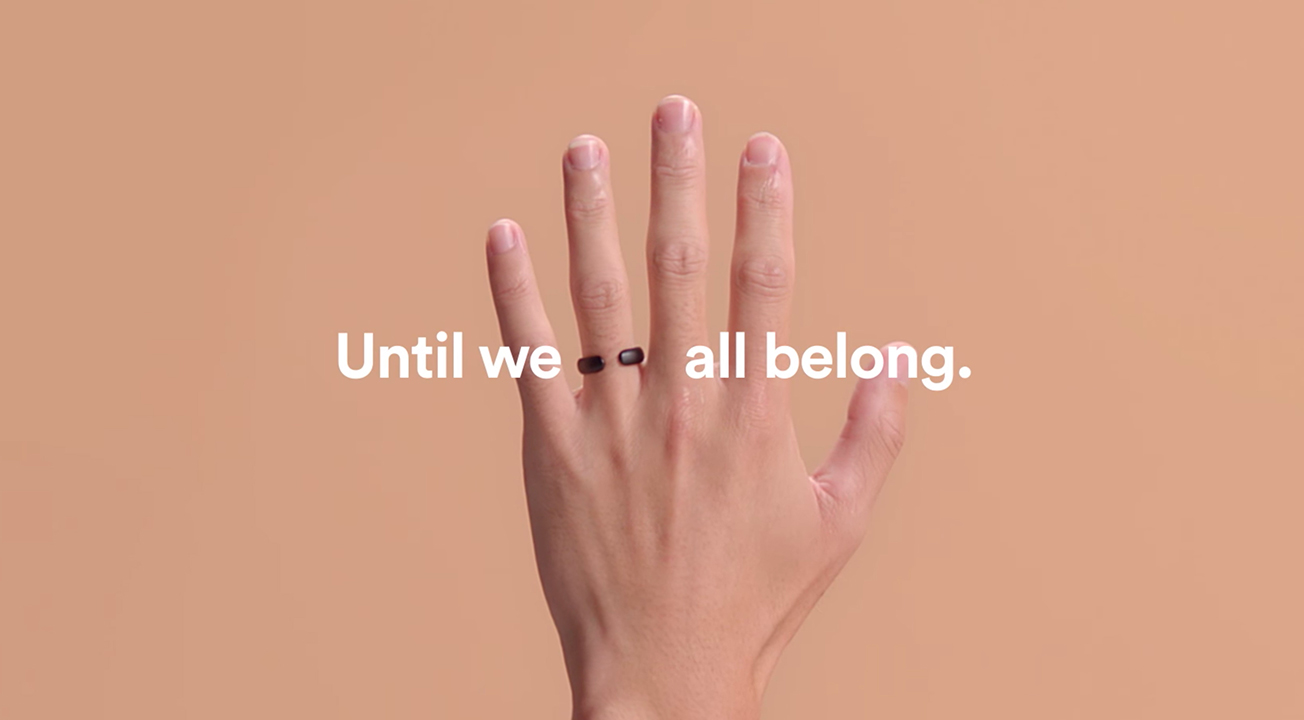 Play video
Airbnb hosts 'Until We All Belong' campaign
Airbnb brought its 'belong' positioning to life in Australia when it threw its support behind the campaign for marriage equality with a campaign urging Australians to wear a custom-made ring to show their support.
Airbnb's 'Until We All Belong' campaign features a series of films and a bespoke ring, designed by Marc Newsom, which features a small gap to serve as a representation of the gap in marriage equality.
The campaign, is supported by some of Australia's biggest brands including Qantas, ANZ and Google, and is adding commercial weight to the political debate around changing the marriage law.
Airbnb CEO Brian Chesky said the campaign aimed to start a conversation in Australia where two-thirds of the country support marriage equality. "Openness and belonging are at the heart of Airbnb – it's at the core of what we do every day.
We are committed to helping people belong no matter where they are in the world and strongly believe that everyone should have the right to marry the person they love."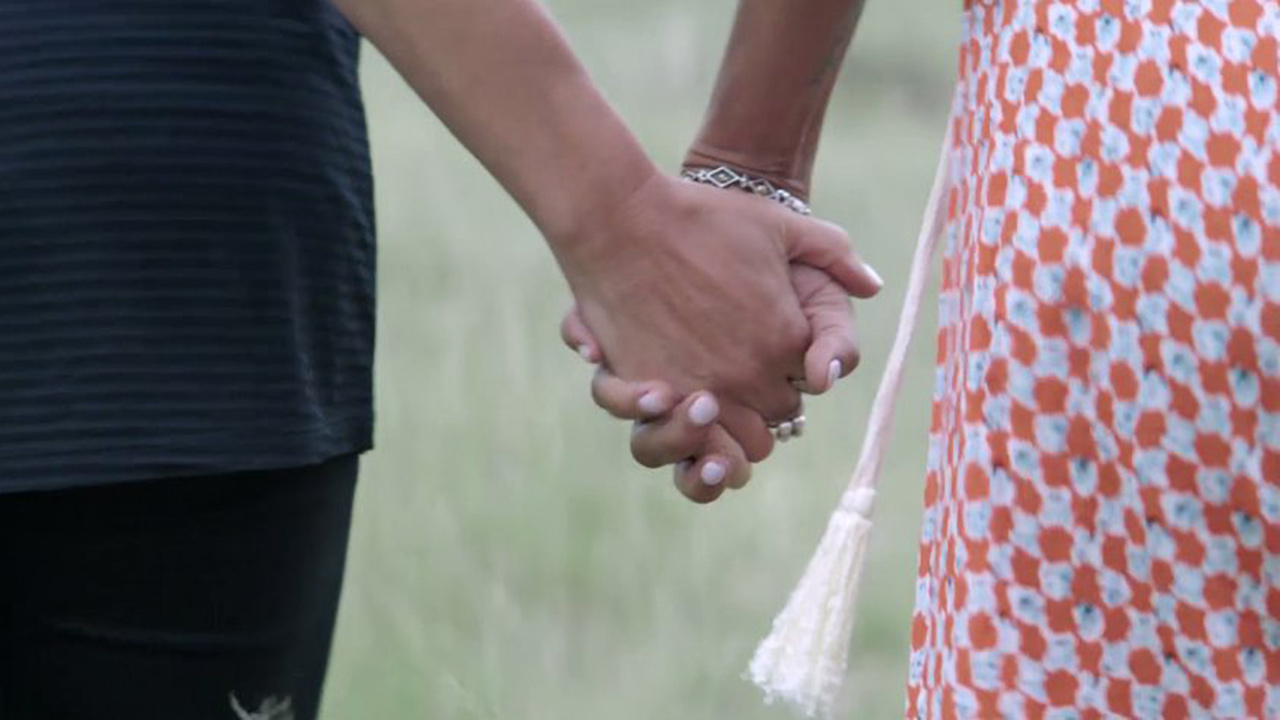 Play video
ANZ celebrates Mardi Gras with GAYTMs
One of Australia & New Zealand's leading banks, ANZ took a high-profile approach to its sponsorship of Sydney's Gay & Lesbian Mardi Gras and Auckland's Pride Week transforming its ATMs into GAYTM's.
The fully functioning works of art featured rhinestones, sequins, studs, leather, denim and fur along with custom made screen displays and rainbow coloured receipts. The GAYTMs were an instant hit and have appeared in Sydney and Auckland during the LGBT events for four years.
This year, ANZ also created an emotive film, Hold Tight, which explored the discomfort LGBTIQ couples can feel when holding hands in public. For ANZ, the campaign aimed to showcase the bank's ongoing support and celebrate the LGBT community.
It also served to draw a strong line in the sand in differentiating the bank from its rivals – not an easy thing to do in the banking sector.
When first launching the GAYTM's, Carolyn Bendall, head of marketing for Australia at ANZ, said "ATMs are a key touch point between us and our customers, so we've transformed the experience of getting cash out into something fun and in the spirit of the Mardi Gras festival."
The strategy has been so successful the bank has built a platform to share a message of diversity, inclusion and respect and to help people understand the challenges that many members of the LGBT community face.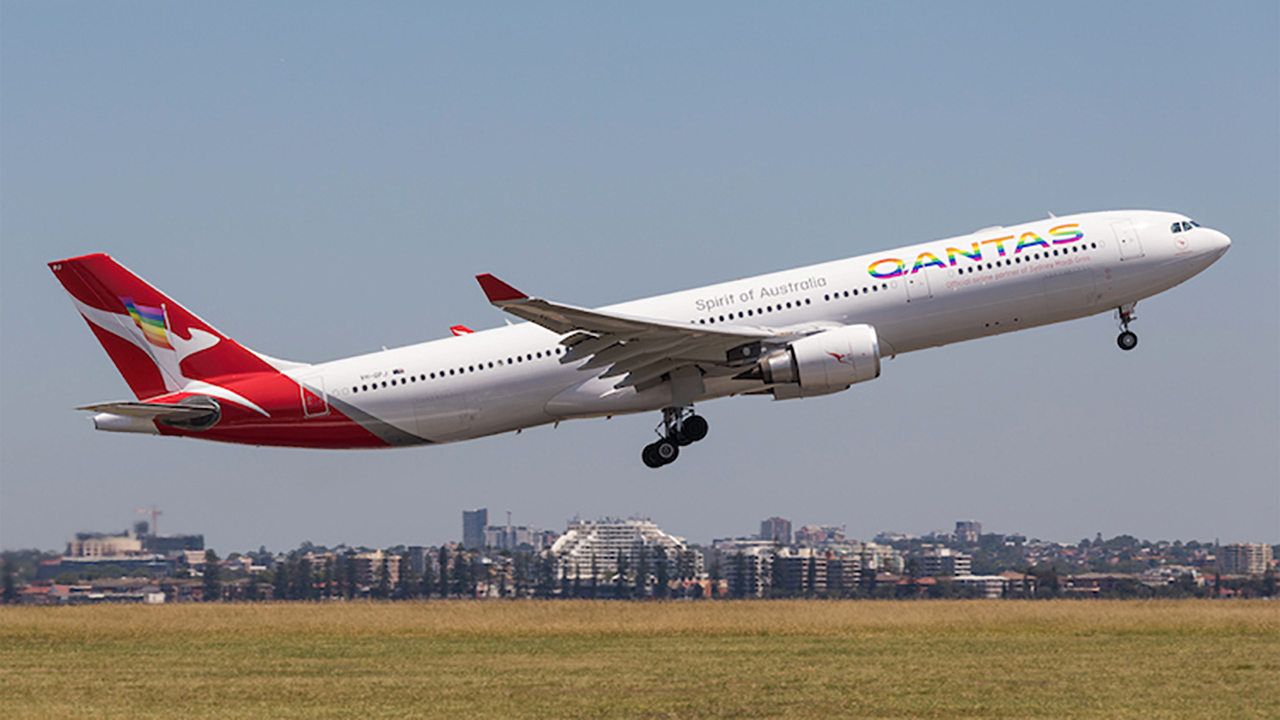 Play video
Qantas takes to the skies with Rainbow flag
Qantas took its message of support for the LGBT community into the skies, with a rainbow plane livery. The "Rainbow Roo" aeroplane featured a rainbow flag on the tail and the Qantas logo painted in rainbow colours along the side of the plane.
Qantas, led by its openly gay CEO Alan Joyce, has been a strong supporter of the LGBT community and has been particularly active in supporting marriage equality in Australia.
Qantas also joined forces with 30 of the country's biggest brands (including ANZ, Telstra, Holden, CommBank and Westpac) to call on parliament to pass laws supporting gay marriage
While the plane's livery was not a permanent fixture it was a loud and proud message from the airline, which is not only one of the biggest brands in Australia, it's also one of the world's leading airlines.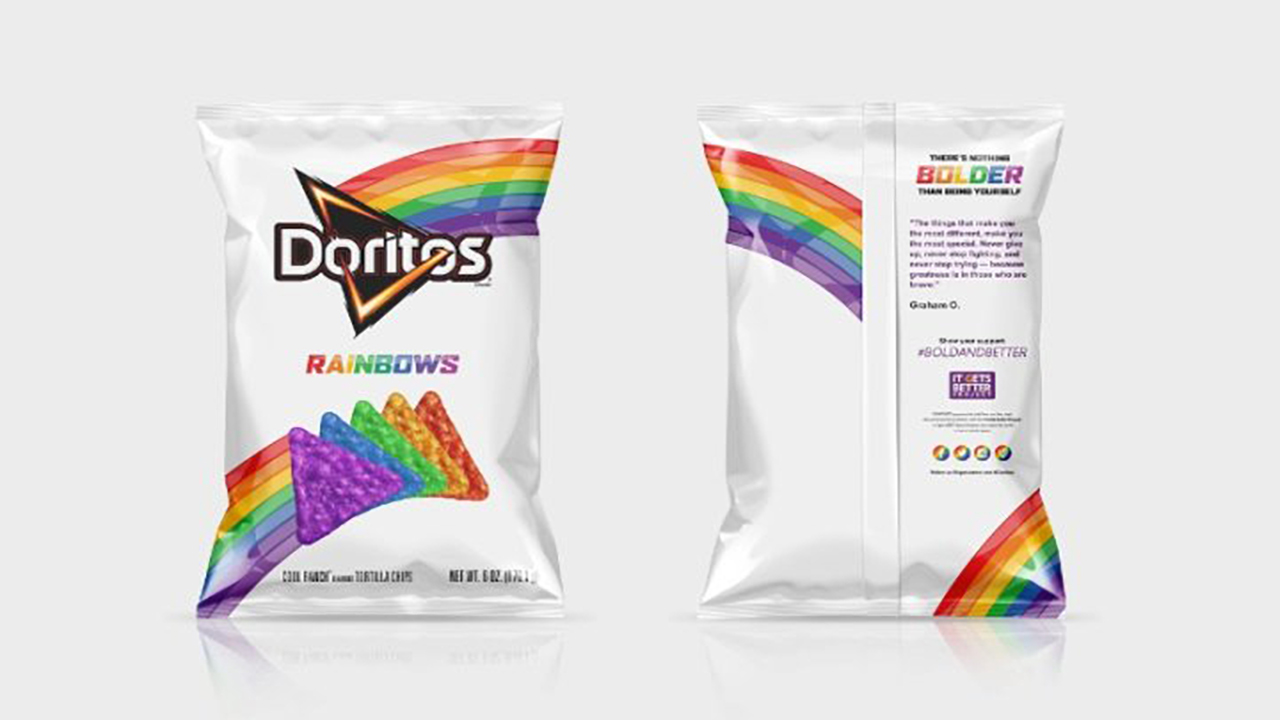 Play video
Doritos gets colourful with Doritos Rainbow chips
The corn chip brand created Doritos Rainbow, a pack of rainbow coloured chips inspired by the Pride flag. The limited-edition product was part of a partnership with the It Gets Better Project, an organisation that supports LGBT youth around the world and aims to provide hope and inspire change.
The chips were available exclusively to consumers who donated $10 or more to the It Gets Better Project, as part of a strategy to raise funds and awareness for the organisation. The move also coincided with the brands sponsorship of Pride Week activities in the US.
The strategy here was very straightforward: the Doritos brand is positioned as bold and brave and its core audience are young people. Doritos needed to show its support for LGBT community and this partnership and the product were a no-brainer.
As, Frito-Lay's CMO Ram Krishnan said, "Time and again, our consumers have shown us, there really is nothing bolder than being true to yourself and living life to the fullest. With Doritos Rainbows chips, we're bringing an entirely new product experience to our consumers to show our commitment toward equal rights for the LGBT community and celebrate humanity without exception."
The final word: By John Ford
Progressive brands with progressive leadership have been quick to make a stand for the LGBT community. This move has been driven by the recognition that there is significant community capital to be gained by expressing support.
At an organisational level, companies with diverse staff bases can gain significant cultural capital by recognising the rights of the individual, irrespective of lifestyle. By standing for 'minorities', these companies say a lot about their culture and will attract and retain progressive staff with shared, modern values.
At the end of the day, this is a business strategy as much as it is a cultural value. The LGBT community is an important 'segment' to connect with commercially and culturally.
The members of this community have both spending power and influence and a voice as a minority. The more they are embraced, recognised and respected the greater the value exchange on every level.
On the cynical side, it's popularism. On the positive side, it's acceptance. On balance, it's good business.