Eat an Impossible Burger, save the world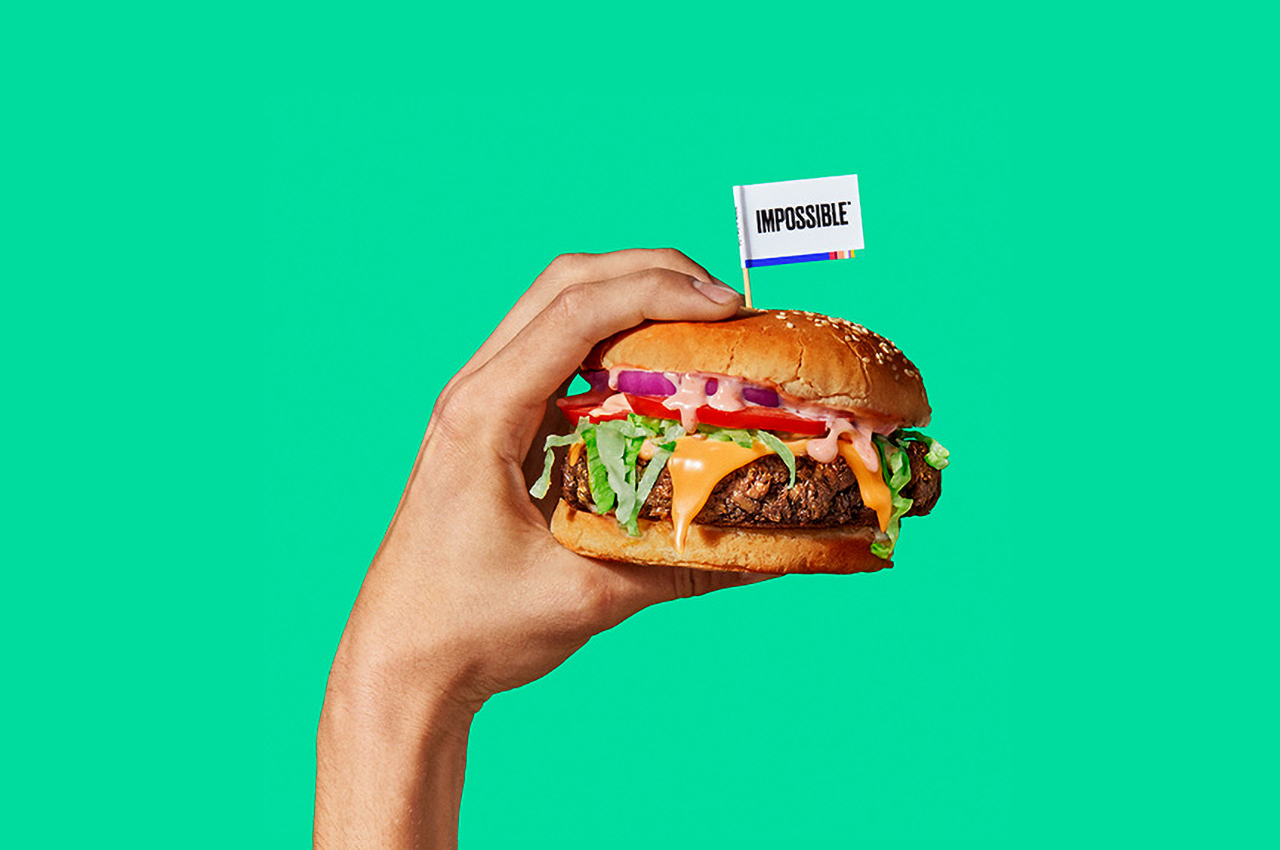 23
April, 2019
23rd April 2019
Impossible Foods is on a purpose-driven mission to save the planet by reducing people's consumption of meat. The company has created the Impossible Burger – a plant-based patty that tastes impossibly meaty and is one of this year's most talked about tech innovations.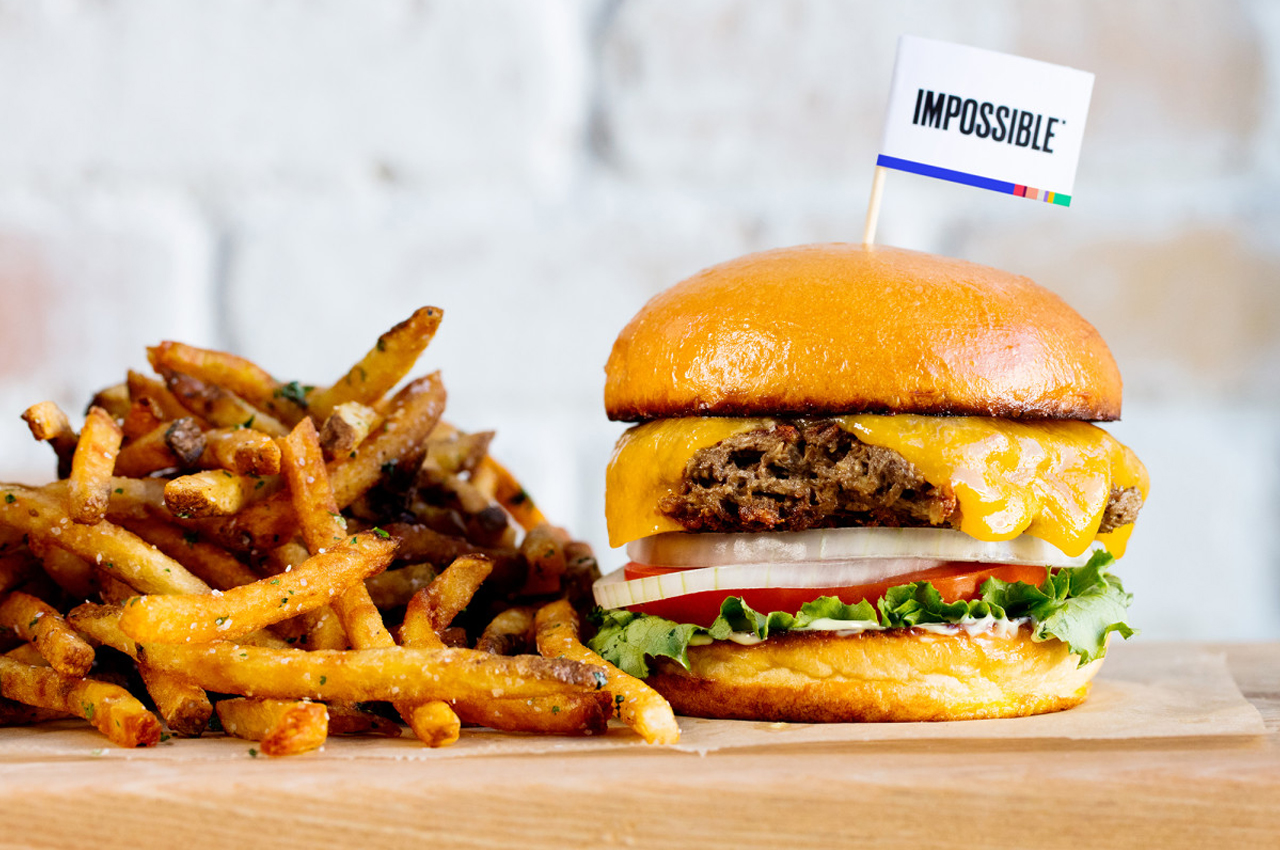 Impossible Foods launched in 2011 with an ambitious goal: to replace meat with meat made from plants – and save the planet in the process.
Global demand for meat is taking its toll on the environment, and our health. As Rebekah Moses, senior manager of impact strategy at Impossible Foods, told Fast Company: "If most of the land that's used for cattle feed were to be left alone … to re-vegetate and actually store carbon in trees and grasslands, it's not an exaggeration to say that we could set the clock back on climate change through food choice alone."
Impossible Foods says it's unrealistic to expect meat lovers to give up the foods they love. So, it spent five years inventing the Impossible Burger, which launched in 2016. Early prototypes tasted terrible, but eventually the company found a way of mass-producing heme – the magic ingredient that causes the juiciness and aromas of meat.
Heme is the friendly non-animal name for soy leghemoglobin – a globin, just like haemoglobin, which makes blood red. Heme is haemoglobin's plant-based equivalent, and Impossible Foods has found a way to extract it from soybeans.
The new-and-improved Impossible Burger 2.0 launched in January 2019, stealing the show at this year's CES where it won Best of Show ahead of 4,400 companies exhibiting new products. Impossible Burger 2.0 requires 75% less water, 95% less land, and generates 87% lower greenhouse gas emissions than a conventional cow burger, according to Impossible Foods.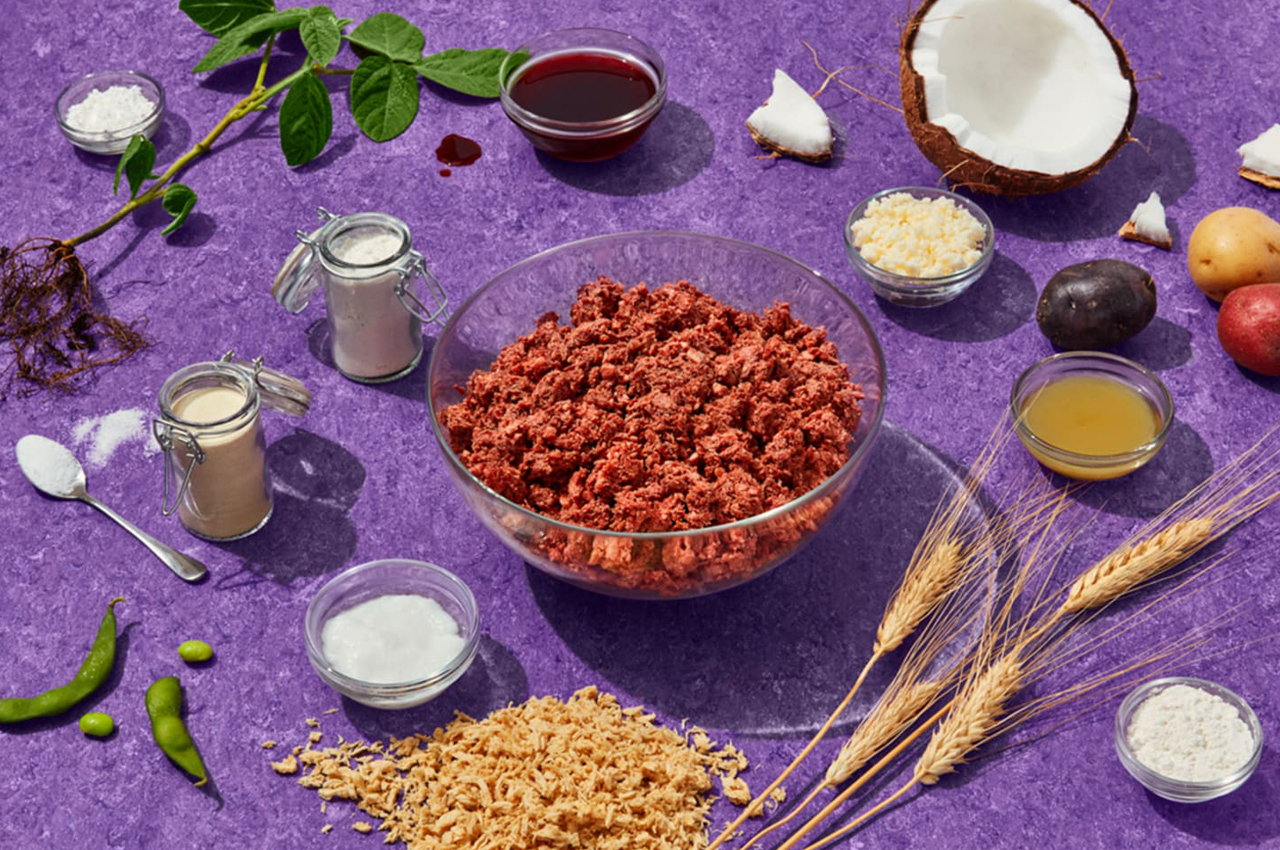 The founder of Impossible Foods, Patrick Brown, leads a team of over 100 scientists and engineers in Silicon Valley. The company claims its real 'product', or the measure by which it determines success, is a "thriving planet for future generations". It's on a mission to restore biodiversity and reduce the impact of climate change by reducing consumption of meat made from animals.
To achieve this goal, Impossible Foods isn't just targeting vegans – it wants to win over meat lovers, which is a far bigger market.
"We're after 100% of the market, not a niche of people avoiding meat or being health conscious," says Brown.
"Our biggest competition, the cow, isn't iterating at all."
It's doing this by scaling up slowly, learning and iterating along the way. It has doubled down on a single product, the Impossible Burger, conducting 26,000 blind taste tests in a quest to continually improve the recipe. When the Impossible Burger was finally ready to launch in 2016, supply was limited to just four high-profile restaurants – including David Chang's Momofuku in New York.
It's also employing the language of tech startups to tell the Impossible story: Impossible Burger 2.0 is positioned as a "product upgrade", making it as worthy of media hype as any Apple release.
As Brown says: "Our cycle of innovation can be much faster than that of the electronics industry … We don't have to worry about legacy system upgrades – and our biggest competition, the cow, isn't iterating at all."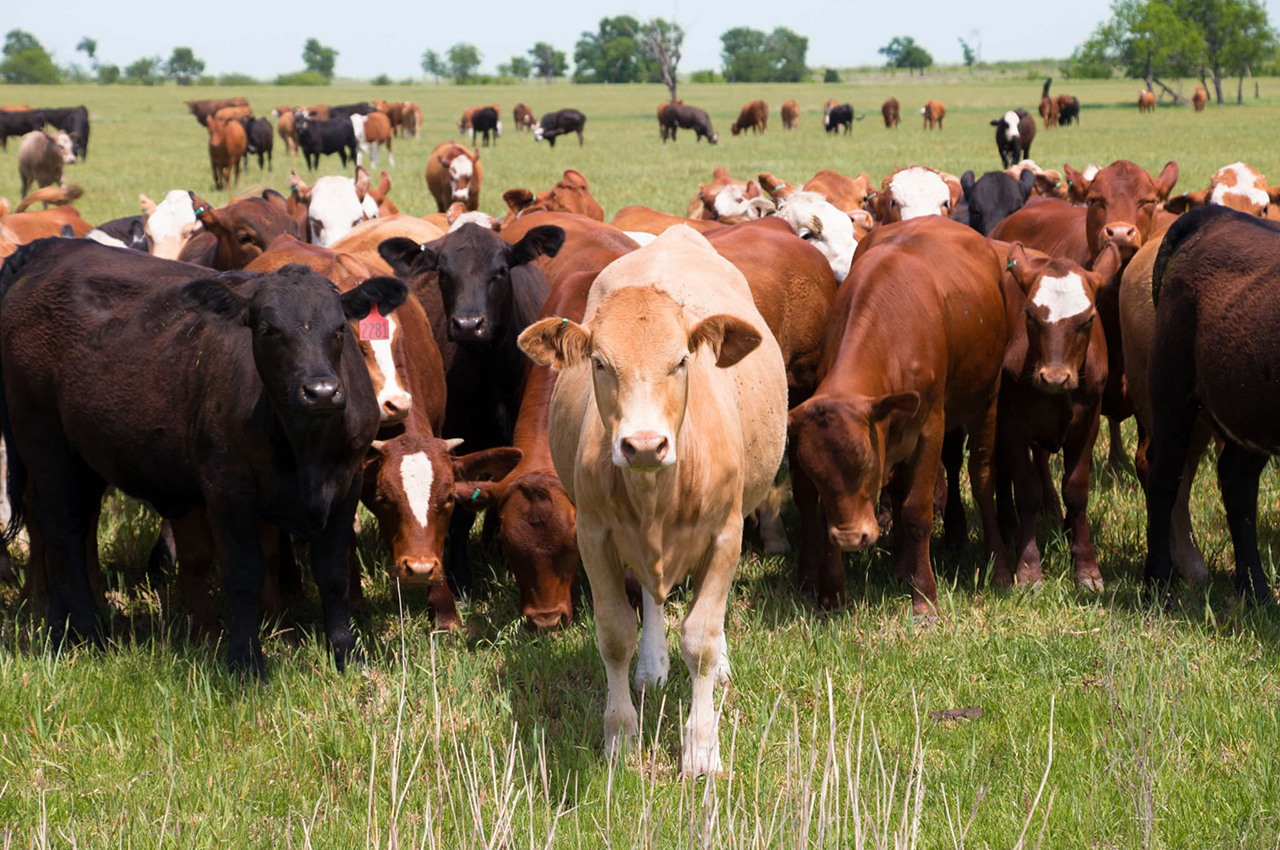 There's no doubt the world is eating too much meat. Australians eat three times more meat per person than the global average: 93 kilograms versus 35 kilograms. The average American eats around three burgers worth of minced beef per week, which equates to 50 billion burgers per year.
Yet a growing number of people are beginning to question their appetite for meat. Not only does meat production create carbon dioxide emissions, the World Health Organisation has classified red meat as "probably carcinogenic to humans".
As a result, the market for meat substitutes is expected to grow to US$6.4 billion worldwide by 2023, according to CNBC. Beyond Meat is now a US$550 million brand, while Nestle is working on its own plant-based burger.
Meanwhile, Impossible Foods is ramping up production at its manufacturing plant in Oakland, which will soon be able to produce nearly two million kilograms of plant-based meats per month.
Impossible Burgers are now sold at over 500 restaurants in the United States, and restaurants in Hong Kong, Macau and Singapore. On 1 April 2019, the Impossible Whopper debuted at Burger King – the latest milestone in Impossible Foods' quest to replace conventional meat with plant-based substitutes by 2035.
Impossible Burger has many fans, but detractors say plant-based meats are overly processed, sodium-filled, lab-made and gross.
"It's the very antithesis of local food with a transparent provenance and backstory. It's patently the brainchild of a technocratic mindset, one brought to us by food engineers and scientists whose natural environment is the laboratory and the factory – not the kitchen, farm or field," writes food journalist Joanna Blythman for The Guardian.
"It's the antithesis of local food with a transparent provenance and backstory."
Yet with every iteration, Impossible Foods is another step closer to its goal of "beating the cow" in blind taste tests. Today, the company has revenue of US$6.5 million and has raised $450 million in debt and equity, which it will use to fuel further expansion – starting with distribution at US grocery stores.
The Impossible Burger is just the beginning. Impossible Foods is already working on plant-based versions of pork, chicken, fish, cheese and eggs. And its next product launch is rumoured to be steak, made from plants. Watch this space.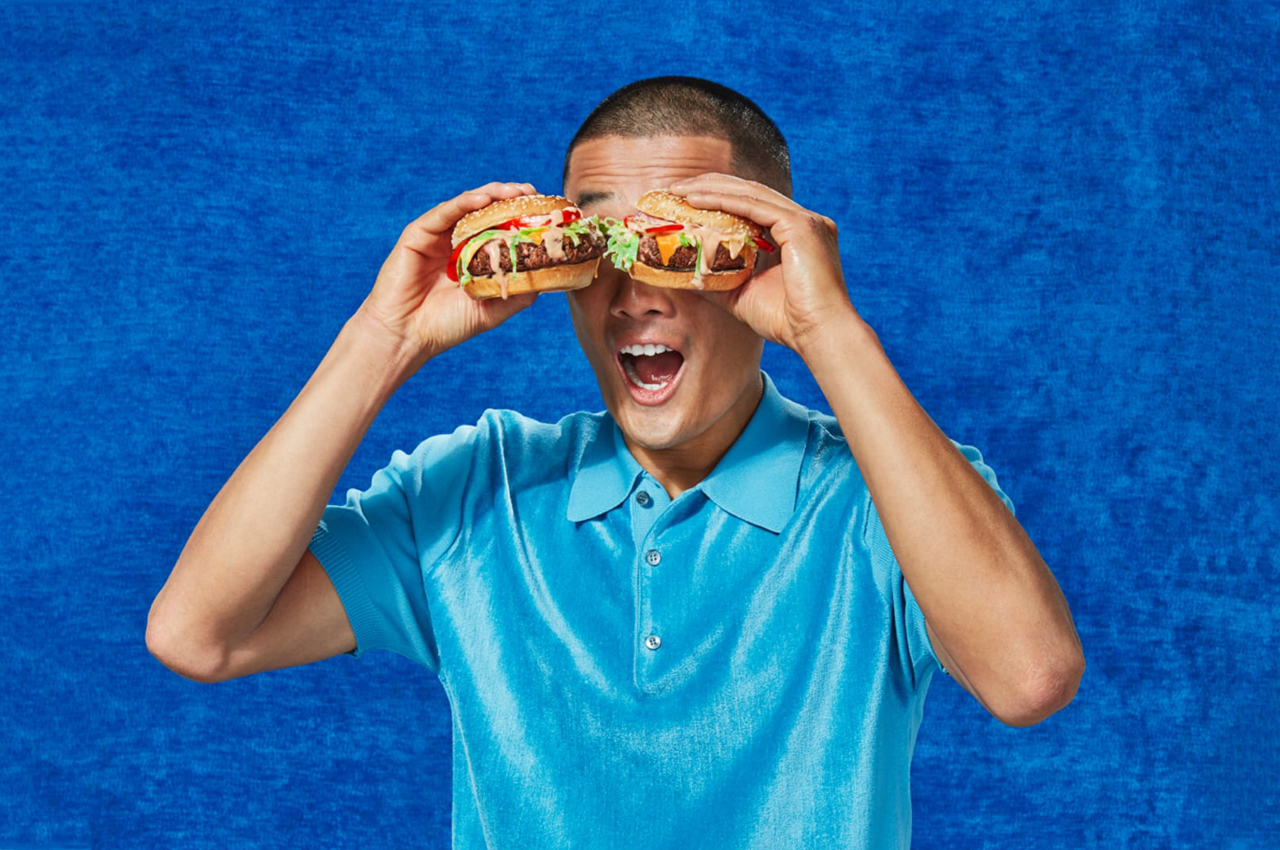 Why It Matters
The Economist has declared 2019 the 'Year of the Vegan' as more people give up animal-based food products in favour of lab-grown meat and alternative milks like Oatly.
Impossible Foods is targeting a far bigger market than vegans – it is targeting meat lovers who realize plant-based foods are better for their health, and the environment.
Impossible Foods is positioning its products as an exciting technology innovation, and real meat as an "inefficient, animal-based technology" –generating lots of media hype in the process.
The company spent many years and millions of dollars developing heme from soybeans, and it's the secret sauce that makes Impossible Burgers so juicy and bloody.
A recent Ketchum survey found 62% of Americans – and 71% of millennials – would happily try a food made using technology.
By 2035, Impossible Foods aims to fully replace conventional meat with plant-based substitutes.