Why The Fabricant is dephysicalising fashion
by The One Centre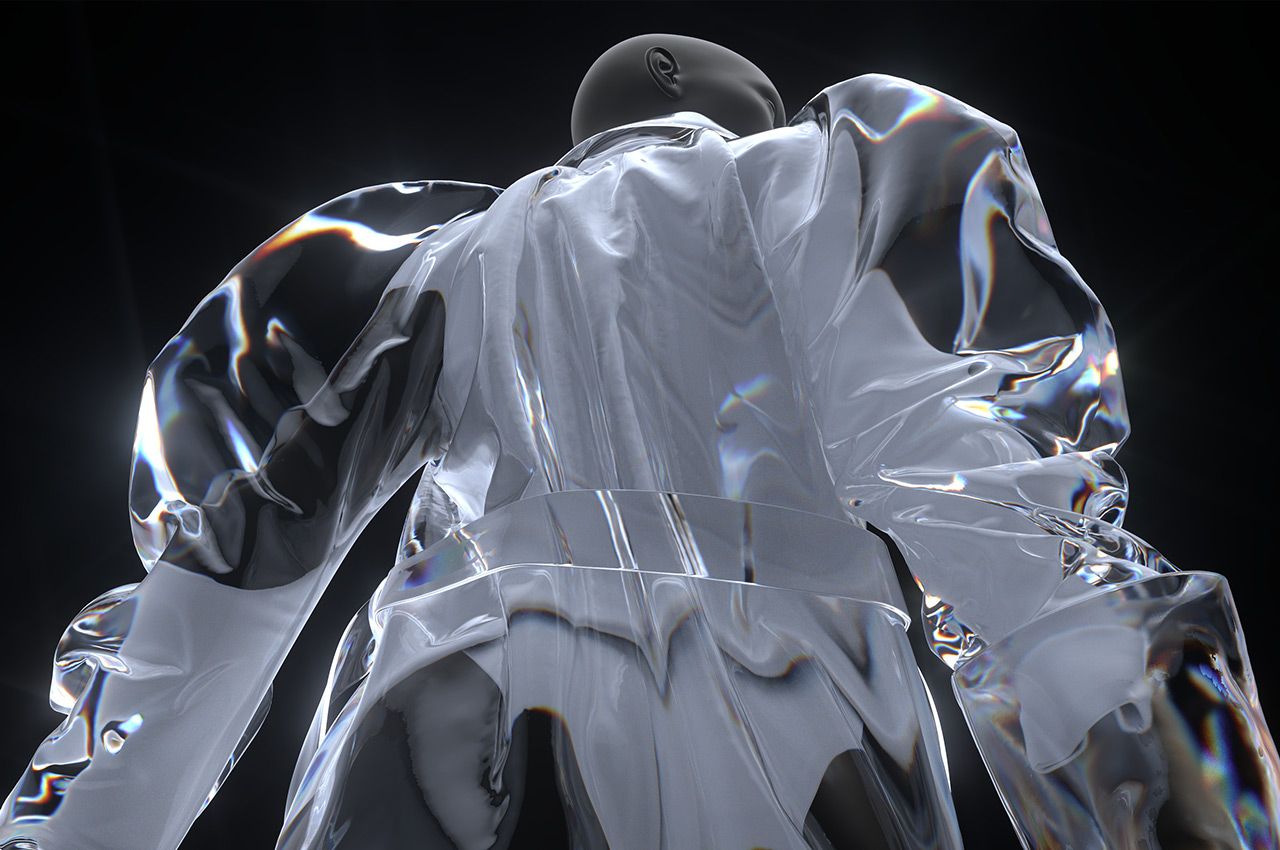 5
October, 2021
5th October 2021
The Fabricant belongs to a new cohort of digital fashion labels whose clothes only exist virtually.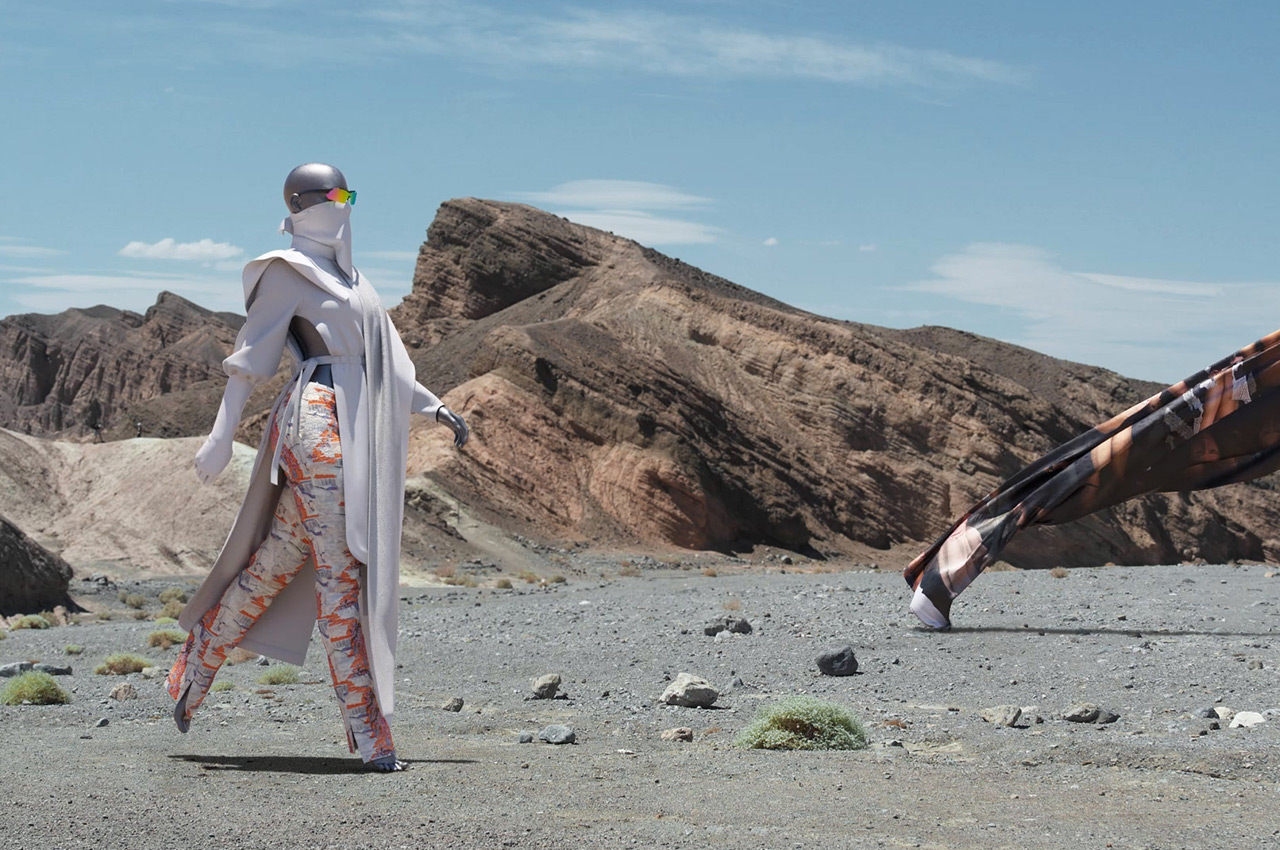 Many brands have been pioneering ethical, sustainable, durable fashion for years, but a new cohort of digital fashion labels is going one step further, designing clothes that only exist virtually.
Founded by Kerry Murphy, Amber Slooten and Adriana Hoppenbrouwer in 2018, The
Fabricant's futuristic, other-worldly clothes are designed to be worn and traded in virtual realities. Made of code, not cloth, their creations "waste nothing but data and exploit nothing but our imagination".
The fashion sector is one of many industries that's coming to terms with the environmental costs of encouraging people to buy more, more, more. In the last 20 years, the volume of clothing production has doubled to 100 billion tons. The overproduction and overconsumption of fashion is one of the biggest contributors to pollution and waste.
Then along came a global pandemic and an inventory crisis. As mountains of clothes piled up in warehouses and shuttered shops, the fashion industry began to rethink long-established processes. In May 2020, Gucci announced it would take a "seasonless" approach to collections to decrease output and increase sustainability. Gucci creative director Alessandro Michele wrote in his lockdown diary: "Above all we understood we went way too far. Our reckless actions have burned the house we live in."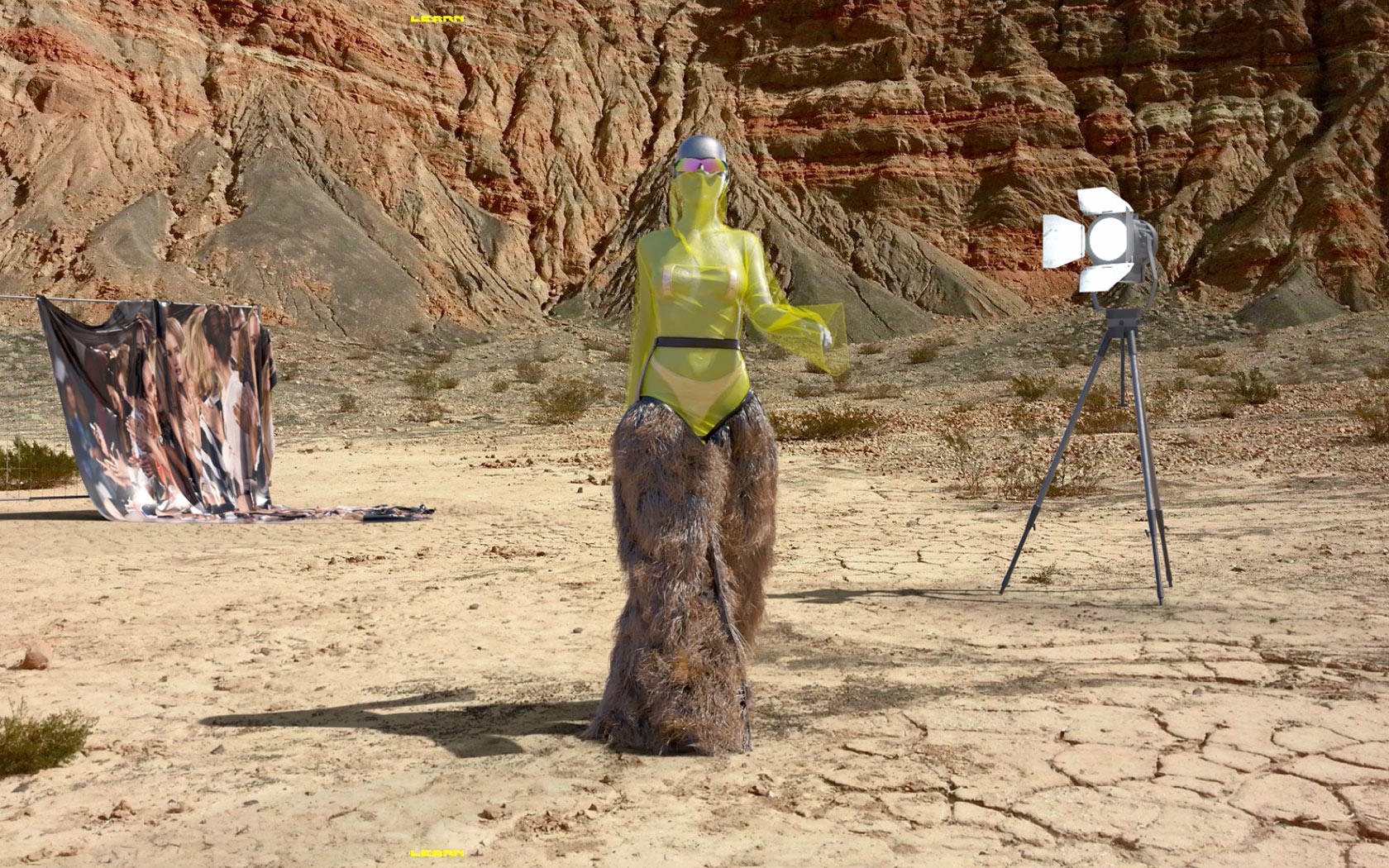 Play video
"Endlessly expressing yourself, but without the negative impact on the planet"
The Fabricant burst onto the scene with the Iridescence Digi-Couture Dress, which sold for $9,500 in 2019. It was the first blockchain transaction of its kind. This year, non-fungible-tokens (NFTs) have enhanced the value of digital wares even more: an NFT-minted jpeg by digital artist Beeple sold for over $69 million in March. As The Fabricant's Creative Director, Amber Jae Slooten, has said: "Clothing has two functions, protection and expression, but what if you take those two apart? I see a future where we will all wear our digital identity around us, where we will be able to curate that space. Endlessly expressing yourself, but without the negative impact on the planet."
The Fabricant's "always digital, never physical" fashion coincides with a second trend: the line between what's 'real' or 'virtual' is becoming increasingly blurred. Many of us already spend hours immersed online every day. We dabble in bitcoin, design our own avatars, create polished social media profiles, or buy virtual goods with virtual currencies in games like Roblox. Buying clothes we'll never physically wear is no longer inconceivable.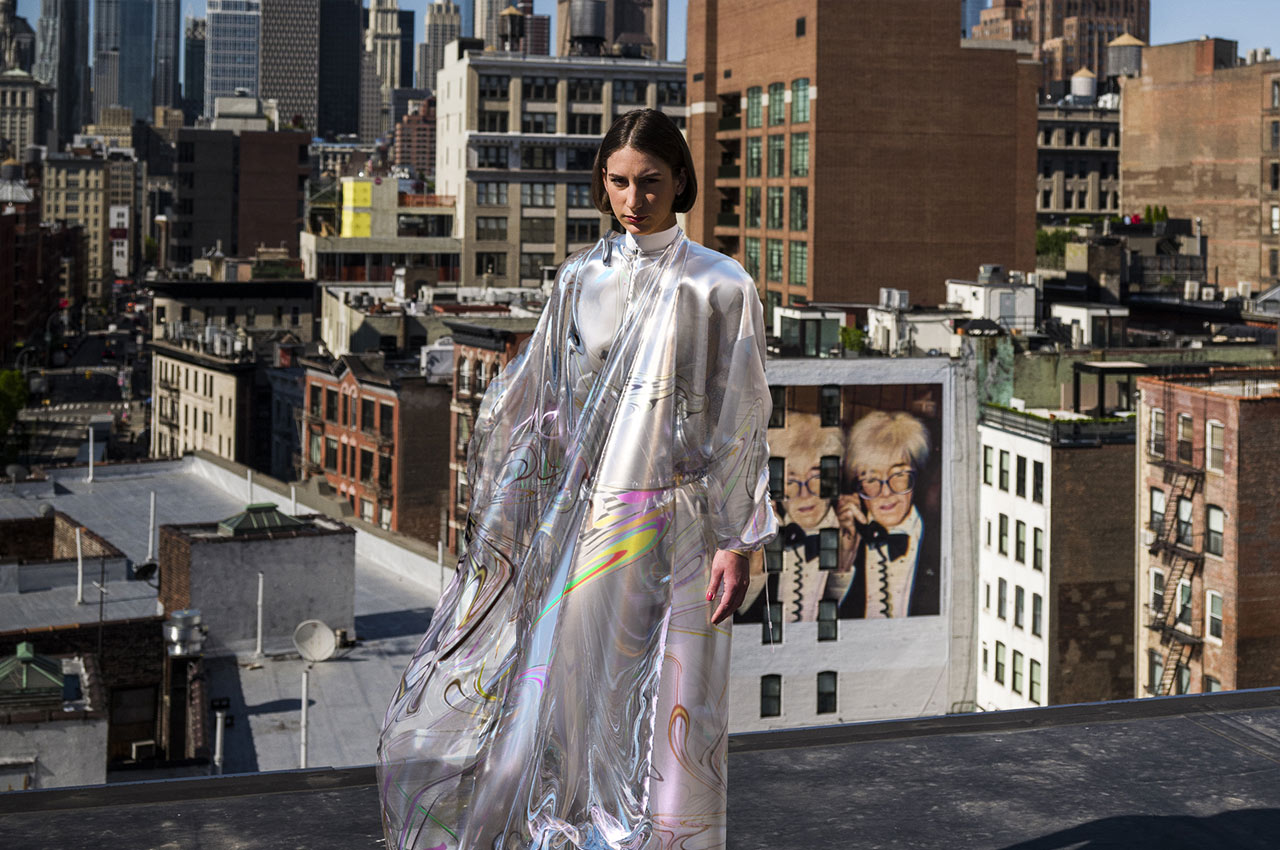 The Fabricant sells garments on digital fashion sites like Dress-X, which 'fit' them to your photograph. You can post this image online to express your style without the environmental guilt of indulging in fast fashion.
According to Dress-X, digital garments emit 97% less carbon than physical garments, are 10 times less expensive and 100% less polluting, Of course, data servers have enormous carbon footprints, so digital fashion isn't entirely waste-free. Still, if a single fashion label replaced a portion of physical garments with 3D samples in the development phase of fashion alone, it could reduce their carbon footprint by up to 30%.
Inclusivity is another big part of The Fabricant's promise: it gives away free digital pattern files and hosts weekly co-creation sessions on Twitch, inviting people from all walks of life to partake in the exclusive world of couture.
Most of The Fabricant's garments sell for far less than the cost of 'real' couture at around $200 per item. Considering the meticulous digital artistry of each piece, this isn't enough to turn a profit.
For now, The Fabricant relies on brand partnerships to make money. It has partnered with Puma, Tommy Hilfiger, A Bathing Ape, Under Armour, Adidas, Afterpay and many more. Many of its collections – like RenaiXance, created with virtual sneaker label RTFKT – sell out in minutes.
In April 2021, The Fabricant raised capital from 4impact, Borski Fund and Slingshot. The following month it debuted The Animator Overcoat, co-created with Australian designer Toni Maticevski, at Afterpay Australian Fashion Week. Billed as "Australia's first piece of unisex haute couture", guests could be digitally dressed and photographed wearing the overcoat, and receive a sharable asset to show friends.
This brand partnership with Afterpay is a telling sign of where they – the world's largest buy now, pay later company – believes future consumer revenues will come from.
The fashion industry's economic profit fell by around 93% in 2020 after rising 4% in 2019, according to McKinsey. However, pockets of exponential growth may catalyse the industry. The gaming industry made $175 billion in 2020, according to Wired, and derives 75% of its revenue from virtual items, so it's no surprise the fashion world wants in. The global virtual goods market is already worth around $50 billion annually and could hit USD$189 billion as soon as 2025.
According to Dress-X, the total addressable market for digital clothing could be worth $10 billion by 2031, which equates to 1% of the fashion industry market. While this figure is relatively low, a displacement rate of just 1% could eliminate carbon emissions by 35 million tonnes (equivalent to Denmark's total carbon emissions in 2017), according to the platform.
Fashion labels now see digital fashion as a potential growth engine – with the added potential of environmental benefits. When you think about how software profitability scales exponentially with popularity, digital fashion at scale could well save the fashion industry, and help save the planet.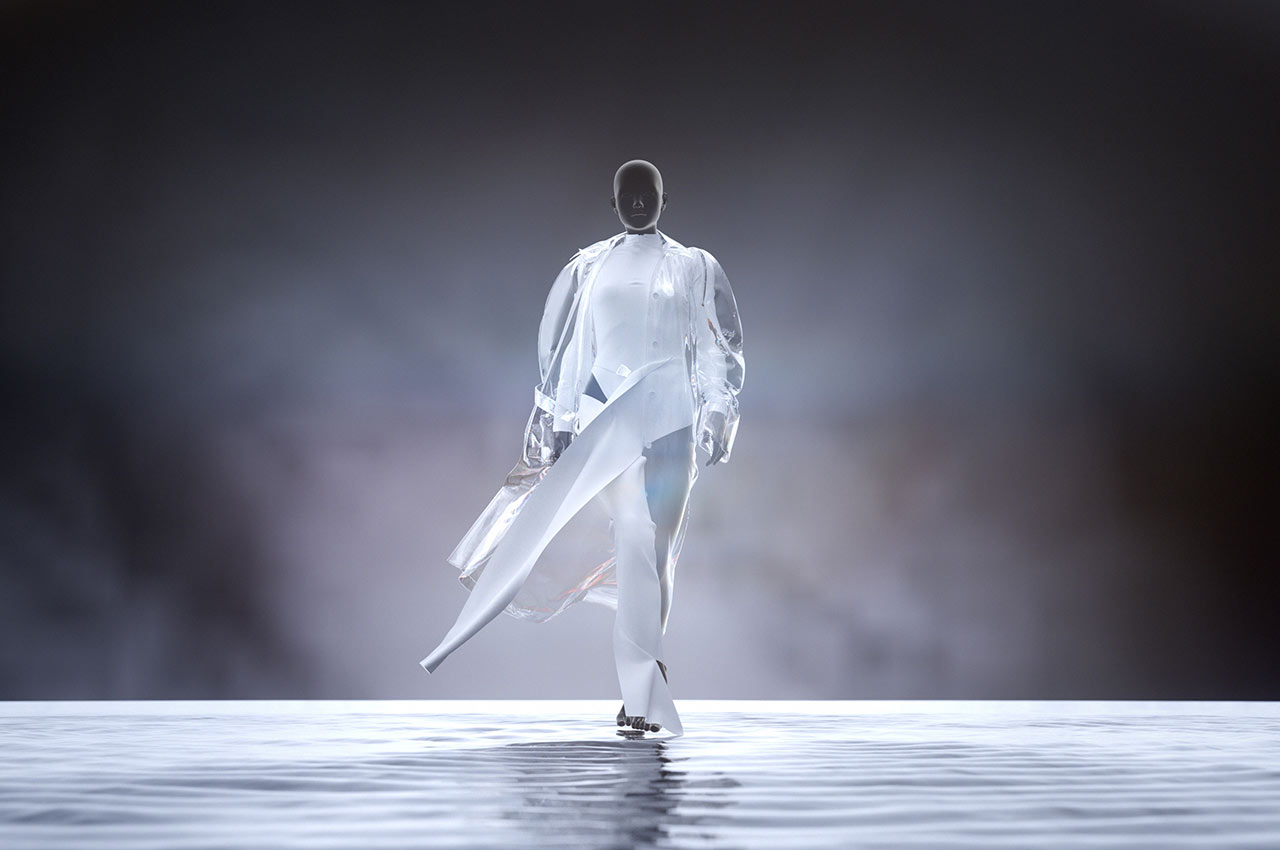 Why It Matters
Is de-physicalised product development and innovation for our digital identities the next big consumer wave for fashion and lifestyle brands?
As marketers, we still want to give people the thrill of buying something new. 'Renewal' is part of our human need, and our economic system. But is it possible to minimise our environmental footprint in the process?
New digital fashion houses like The Fabricant are giving people new ways to consume the things they love and new ways to express themselves without harming our planet.
Every brand has an opportunity to push for business models that are smarter, more resilient and less wasteful than before. This could mean reimagining physical products for a virtual world where people buy your brands – but never touch them.
Fusing fashion with gaming makes perfect sense given 63% of mobile gamers are women.
We will soon be able to express ourselves more freely than ever before – outside of social norms and gender/binary stereotypes – as our digital identities roam around the metaverse.
Gucci, Burberry, Louis Vuitton, Valentino, Marc Jacobs, Moschino, UNIQLO and more have launched virtual creations. The world is in flux between digital and physical realities, triggering a wave of artistic innovation … where will it take your brand?